As part of the Social Safety Net Project (SSNP), which is run by the National Nutrition Agency (NaNA), Directorate of Social Welfare, and Department of Community Development and is jointly funded by the World Bank and the Government of The Gambia, more than 17, 000 beneficiaries recently received another set of Nafa cash transfers.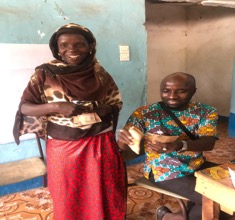 Baboucar Joof, NaNA's director of planning, research, and resource mobilization, explained during the rollout in Jareng village that the Nafa program has been implemented since September of last year and has been piloted in Nianija, Wulli West, and Foni Bintang.
Trust bank distributes medical items worth D1.8m
We are now in Niamina East, which is one of the 17 districts we refer to as the expansion districts. The pilot was very successful. This indicates that we are now enrolled in the Nafa program's 20 poorest districts. Because we have over 15,000 beneficiaries from the 17 districts, this is significant.
He stated that the goal of the Nafa is to ensure that extremely poor households receive financial assistance through Social and Behavioural Change Communication (SBCC) in order to enable them to lead decent lives.
Director Joof went on to explain why women are the primary recipients. She said the project encourages household heads, but they also told men that they prefer women to receive the money on their behalf.
"We will want women to come forward and listen to the SBCC in order to ensure that our children are healthy and that the entire household eats a nutritious diet because women are leading on the upbringing of the children and taking care of the households,"
According to Nanding Sanyang, the officer in charge of community development in Jareng Ward, the exercise has been carried out without any problems because people have responded to it. She added that they had never encountered any issues since the project began.