As part of its Corporate Social Responsibility Policy, the Trust Bank began distributing D1.8 million worth of medical supplies on Tuesday, including used clothing, electrical supplies, detergents, and other items.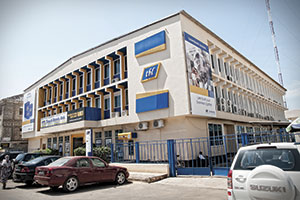 Various hospitals across the nation are receiving these items.
Tanta Tanka Psychiatric Hospital was the first facility to reap the benefits of this kind act.
Omar Mboob, deputy managing director of Trust Bank, presented the items and referred to Tanka Tanka as one of Trust Bank's cherished partners. He cited the fact that the majority of the country's population—youths—deals with mental health issues during their most productive years.
Bakau police station attackers arraigned
He stated that the hospital's loving, stable, and compassionate environment is the best support and emotional scaffolding for mental health.
Our society must undergo a fundamental cultural transformation, a society's culture that has long shied away from the mentally ill. If our nation is to live up to its standards of compassion and dignity and make the most of its human resources, this neglect must end.
It's possible that our mental health services and systems don't have enough money to meet the demand and requirements; Therefore, we are inviting additional partners to participate in order to construct something that can provide the vulnerable population with the support they need to deal with their mental health issues early.
Mr. Mboob claims that the guiding principle of Trust Bank's corporate social responsibility program is "sharing and caring." He revealed that everyone in the Trust Bank family requested the bank's corporate social responsibility program during the 25th anniversary celebration.