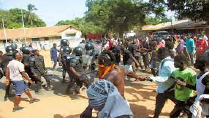 Principal Magistrate Omar Jabang of the Kanifing Magistrates' Court gave Bakau residents bail yesterday.
This was in response to Commission A. Sanneh's request that the court deny bail to the accused. Kadijatou Jallow, the defense attorney, countered the objection made by the prosecution to deny bail to the accused. She asked the judge to give the accused bail.
The defense's argument for the court to grant the accused bail was successful. Consequently, the presiding magistrate granted them bail in the amount of D250,000 each with two Gambian sureties required to deposit their identification cards with the court's registrar.
President Barrow urges BCC to collaborate with gov't
Additionally, they ought to swear to an affidavit of means. When required, the accused should make themselves available to the court.
On December 5, 2022, they were charged with seven offenses: conspiracy to commit a felony in violation of Section 368 of the Criminal Code; preventing or obstructing the making of a proclamation in violation of Section 75 of the Criminal Code; rioters injuring buildings and machinery in violation of Section 77 of the Criminal Code; threatening violence in violation of Section 84 of the Criminal Code; common nuisance in violation of Section 160 of the Criminal Code; idle and disorderly in violation of Section