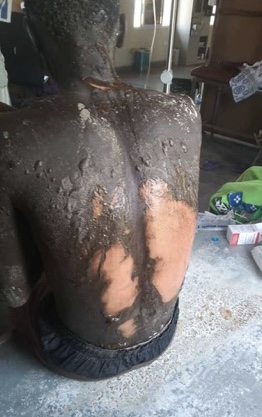 After being found guilty of setting Sulayman Ceesay on fire and pouring gasoline on him at Sami village in the North Bank Region (NBR), the Essau Magistrate court found Lamin Bobb guilty and sentenced him to a fine of D500,000 in default and two years in prison.
The convict was given an order by Presiding Magistrate Anna O. Mendy to pay the victim D500,000 in lieu of serving two years in prison.
Court reprimanded husband for reportedly murdering his wife
The defendant was reminded of his right to file an appeal.
A single count of assault causing grievous bodily harm was brought against Mr. Bobb.
The incident took place on October 19 at Sami village, which is located in the Lower Nuimi District (NBR), as stated in the indictment that was filed by the Prosecutors of the police.
According to the specifics of the crime, on October 25, 2022, Lamin Bob unlawfully poured gasoline on Sulayman Ceesay and started a fire that burned his body, inflicting severe injuries on Ceesay.
The charge was accepted as guilty by Mr. Bobb.
The accused person maintained his guilty plea after the facts were told, and he was found guilty of the charges.
He received the appropriate sentence after that.