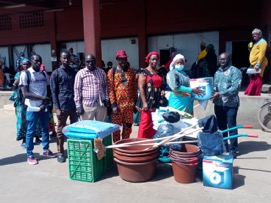 Yesterday, the National Association of Cooperative Credit Unions in The Gambia (NACCUG) and the ECOWAS Fund for Regional Stabilisation and Development-The Gambia Pilot Project (ECOWAS FRSD Gambia Pilot-TC) distributed starter kits to 60 artisanal fish processors in the Gunjur and Sanyang landing sites.
Among the plans to distribute additional starter kits to artisanal fish processors operating within the coastal fish landing sites in the Greater Banjul Area is this initiative, which is carried out by the German International Development Agency (GIZ) and is jointly sponsored by the ECOWAS Commission and the Federal Ministry for Economic Cooperation and Development. Improved sun drying racks, wheelbarrows for transporting fish, cleaning and preparation pots and pans, and PPE are included in the kits.
Mariama Ashcroft, a microfinance adviser for the GIZ project, stated during the presentation that the project began in the nation in March 2020. She went on to say that they help young people, including women and migrant returnees, start businesses so they can make more money and help the country's economy grow.
She went on to say that the project is intervening in the Greater Banjul Area, the Lower River Region, and the Upper River Region, and that their target demographic was between the ages of 18 and 35. She mentioned that women up to the age of 50 are employed in the fisheries industry.
"Adding value is an additional area of focus. For instance, we neither support nor purchase fish-catching vessels or nets. Smoking, drying, and transportation are our primary focuses. In addition, we collaborate with NACCUG on a mini-grant program in which we provide them with a fish-smoking stove known as Nopale and purchase them equipment based on the activity they want to participate in.