Ambassador Bah presents letter of credence to Biden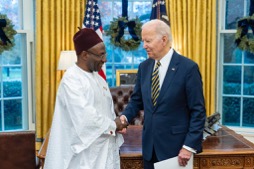 His Excellency Mr. Momodou Lamin Bah, the newly appointed Ambassador Extraordinary and Plenipotentiary of the Republic of The Gambia, presented the letter of recall of his predecessor and his Letter of Credence to President Joseph R. Biden on December 12, 2022, during a ceremony at the White House in Washington, D.C. Following the presentation of his Letters of Credence, Ambassador Bah conveyed the fraternal greetings and best wishes of His Excellency President Adama B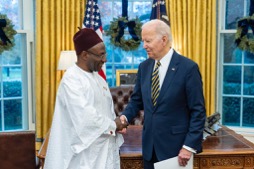 Ambassador Bah made the most of the opportunity to let President Biden know that he was aware of The Gambia and the United States of America's fruitful bilateral relations and rich history. Through USAID, the Peace Corps, and other American institutions, he noted, the two nations have collaborated on socioeconomic development.
"Good electoral laws, freedom & democracy would be befitting tribute to Solo
According to Ambassador Bah, The Gambia and the United States of America have forged strong ties in the fight against terrorism through their political and diplomatic cooperation. He stated that he would diligently collaborate with the Biden Administration to enhance, broaden, and deepen the existing partnership.
He stated that the two nations have long been allies because of their shared values of respect for human rights, human dignity, the sanctity of life, and the rule of law. Ambassador Bah stated that this was one of the primary factors that prompted the United States to play a leading role in supporting The Gambia in its struggle to free the country from a brutal dictator who had hijacked the country and ruled it for 22 years.
Ambassador Bah praised the US Government for successfully pursuing the former Gambian President Yahya Jammeh's forfeiture of US property. The Ambassador said that this was a clear sign that the US government was supporting The Gambia and that President Barrow and the people of The Gambia would never forget that support.