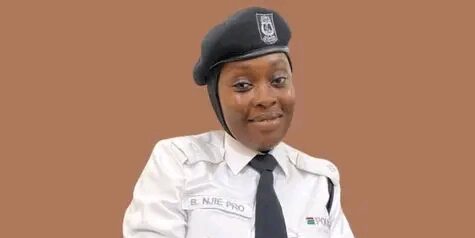 By Modou Touray
"In public order management, there's graduation in the use of force and the use of force which includes tear gas is always the last option. Even those using the teargas, are exposed to health hazards as those they often throw teargas on," ASP Binta Njie, the Public Relations Officer of the Gambia Police Force explained. The Police PRO was reacting to the widely perceived public notion that frequent torture and use of teargas on peaceful protesters is a deliberate violation of human rights, their neglect of ethics and weakness. " the rationale isn't to harm or cause health hazards because our duty is to protect. it is strictly to ensure peace and stability, where there is a threat to peace. We give protesters security if the procession is peaceful; Ask them to disperse if they cause a breach of the peace.
There is always a proclamation read before the use of force. The use of force I always the last option when all negotiations failed," She clarified. " We don't injure protesters in the name of self-defence. We use minimum force to disperse them, in most cases, tear gas is used. Commenting on the police's deliberate use of force, the PRO outlined the procedures to be followed if citizens felt their rights were violated by the police during their operations. You can lodge a formal complaint against any police officer if he/ she did it with intention.
He will be charged with assault, while the victim will also be charged with unlawful assembly. Because they are mandated to work within the confines of the law," she stressed. " People should understand that the police are only here to protect them. If only we can avoid unlawful gatherings, it will contribute immensely to the security development of our country because not only could the time we spend in public order management be directed to more relevant security demands but also save human and financial resources involved in these operations".
She further said: "We are aware of people's fundamental right to assemble, however, we urge them to follow due process to respect the laws that govern exercising that fundamental human rights so that peace, safety and security prevails noting that " a harmless and genuine assembly could be inundated with unlawful activities by people with totally different agenda."