"He has confidently lived the virtues of honestly, humility and steadfastness "_ Speaker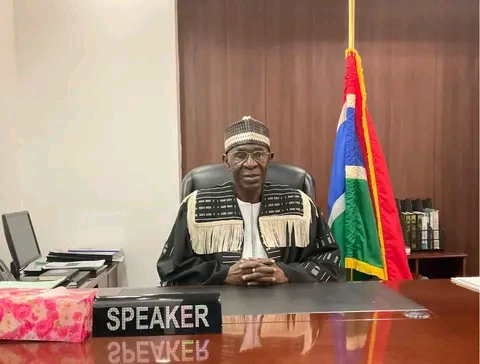 The Speaker of The National Assembly honourable Fabakary Tombong Jatta has described the Late Vice President of the Republic of The Gambia, Dr Badara Alieu Joof as a man of honesty, decency, humility and steadfastness while delivering his tribute to the late VP at the National Assembly on Monday.
"Today, in this sacred Assembly – the Vice President now Lies-in-State being honoured as a man of deep civility, quiet thoughtfulness, and sound judgment. He has confidently lived the virtues of honesty, decency, humility, and steadfastness. His example of fairness and fair play, of dignity and grace, brought forth in us our better instincts."
The National Assembly Speaker added that Badara Alieu Joof was a true patriot who has dedicated his entire life to the moral development of the Gambia. A kind and humble personality, his influence and interaction transcend, ethnic, ideological and other sectarian boundaries as he has always sought to bring about harmony, understanding and a deep sense of community among those he crosses paths with.
"He was forthright, robust, informed, and academically grounded. His contributions were underpinned by a unique urgency and always focused on the future as he always looked to what his generation would bequeath to the next generation. In expressing his views, he was unapologetically fearless, courageous, ready to take risks, revolutionary, and a visionary."
The Speaker pointed out that the late VP was a Vice President that had enormous respect for the National Assembly, was always in a hurry to respond to our call and under his leadership Cabinet Ministers were always present and punctual in their dealing with the National Assembly.
"To his family, I say we know that the passage of time never really heals the wounds that have been occasioned by such a tragic loss. We pray that Allah grants them the fortitude to bear this irreparable loss."
The late VP according to the Speaker was never bland or boring, Badara Alieu Joof was one of those public servants who proved that service to one's country is all about the people and wanted young people to be as passionate about it as he was all his life. He was forever optimistic.