Police arrested absconded thieves, recovered stolen items worth GMD 1.5M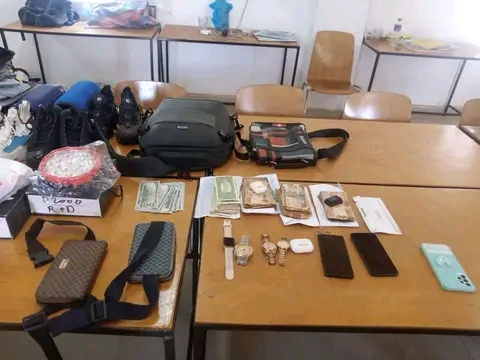 The Deputy Police Public Relations Officer Cadet ASP Muhammed Y Darboe disclosed to journalists in a press conference, that they have recovered stolen properties of US-based Gambian married couple Sheriff Muhammed Lamin Jarjue and Abibatou Saidy, whose house was raided by thieves on Wednesday afternoon, January 18, 2023, and valuables were stolen worth over one million dalasis.
The police confirmed the arrest of the alleged thief, Momodou Lamin Jarjue and three others.
"The stolen properties include a gold chain set worth $3500, 2 gold chain sets; for $500, silver crystal; for $33, an AirPod; for $250, an Apple Watch for $438, 1 MK watch; for $150; 2 MK watches; $200, male diamond watch; $445, Gucci purse; $1079, Aido purse; $60, 2 male designer perfumes; $250, and cash of $15,800 were all stolen," said deputy police PRO.
The Deputy Police PRO said the alleged thief was arrested around Bansang Barajally in the Central River Region (URR) and said they recovered over D1.5m worth of materials and cash from him during the arrest.
"Two days ago, we conducted a robust operation after receiving a complaint from a couple from the United States of America that their house was broken into and a thief entered there and made away with some of their belongings. Our men were on their feet throughout yesterday and the day before yesterday and were able to have the thief apprehended somewhere in CRR around Bansang Barajally.
"We have recovered many items, including mobile phones, laptops, personal belongings, clothes, shirts, trousers, caps, etc. And of course, also money is worth about D1.5 million when it's converted to Gambian Dalasi. But the physical cash we have also recovered including Dalasis and dollars are all displayed here today," the Deputy Police PRO Cadet ASP Muhammed Y Darboe said.