IGP Sanyang urge police to exercise restraint ,protect rights of people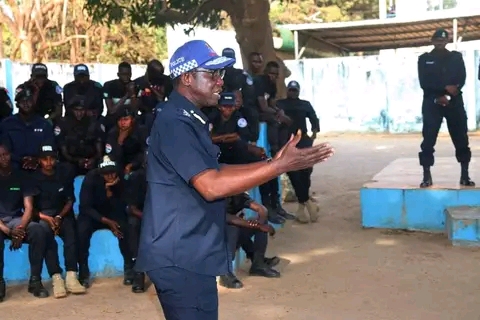 The Inspector General of Police, Abdoulie Sanyang,
during an hour-long lecture,  challenged his men and women in uniform to be more measured in their approaches and dealings with the public, exercise restraint and always protect the fundamental rights of the people without compromising their constitutional mandate of enforcing the law and order.
He delivered a maiden lecture on ethical and professional policing to over three hundred police officers at the PIU Unit in Kanifing recently.
"Our job demands that we sacrifice for our brothers, sisters, the elderly, and everyone else in the society with due diligence and respect," IGP Sanyang reminded hundreds of police officers at the gathering.
The lecture aimed to refresh and share knowledge and experience of international best practices of police operations in a democracy as the country undergoes security sector reforms. IGP Sanyang enjoined all police officers, especially the junior officers to execute their duties with tact and a high level of professionalism and ethical standards.