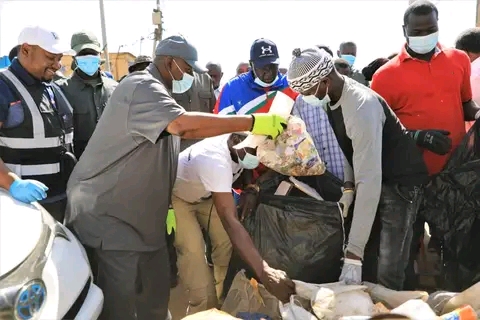 In what many described as symbolic leadership, President Barrow earlier today led the re-introduction of the National Cleansing Exercise 'Set Settal', calling on the relevant authorities to implement the anti-littering law.
President Barrow said that many people are in the habit of indiscriminate littering, which renders the environment dirty. ''We have the laws and should use them to stop littering. That is what democracy is about,'' he stressed.
The President, however, expressed delight at the turnout of the people to clean even though it was a voluntary exercise, saying, ''We cannot force people to come; we can only encourage them''. He added that people must not wait for the exercise to clean their environment; they must do it daily to ensure clean and healthy surroundings.
In his leading the exercise, President Barrow said leadership is a big responsibility and a position of trust, thus the participation to join the citizens. He thanked the lord Major of Kanifing Talib Ahmed Bensouda, the Cabinet members and all the people that came out to join him.
President Barrow urged the journalists to lead the advocacy in the exercise.