Barrow tells journalists to promote nationalism and promises to use laws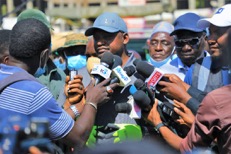 While pledging to follow the country's existing laws, President Adama Barrow has urged journalists to educate the public about nationalism.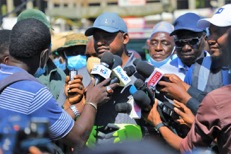 During the relaunch of the monthly nationwide cleansing exercise on Saturday, he made this statement.
Two alleged murders of minors in Kiang
President Barrow stated to journalists at Churchill's Town: I believe that the journalists can represent us. By educating the public and instilling a sense of pride in their nation, the media play a crucial role in this. Nationalism is very important because, from 1965 to the 1970s, people used to go out by 6 a.m. even on national holidays, but now no one goes out on Independence Day.
We must restore that due to its significance and significance. Let us band together because a force that will ensure our nation's success is unity. Now that the laws are in place, it's time to use them. Rules and procedures are at the heart of democracy. Those procedures are in place, and I believe it's best that we put them into action.
The head of the country went on to say that his government discussed and came to the conclusion that it was necessary to clean the environment, citing the fact that being clean keeps one healthy. He also said that "Set-Settal" used to happen, but not like the government's plan.
He claimed that the previous administration used to compel people to shut down their businesses and stop driving their cars. However, he stated that because it is against his policy, he does not believe in doing so.
Barrow stated once more that "cleanliness is health and health is wealth" and that his government took a long time to decide to restart the exercise due to a number of factors.