Nioro Jattaba Vegetable Gardeners expose to heavy losses as the water shortage continues.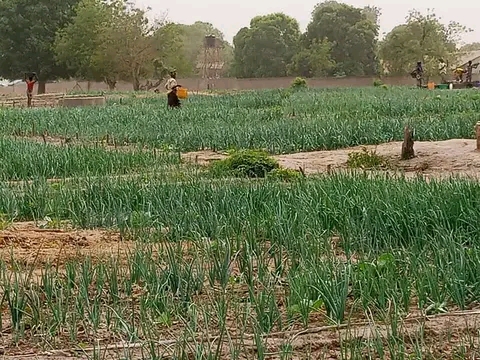 The women of Nioro Jattaba village are experiencing a water shortage in their vegetable garden which is green after two months of intensive gardening.
According to the women gardeners, the borehole facility could only fill four out of seven reservoirs in the garden. The status quo as of mid-February has grown worse, exposing the entire green cover to the consequences of drought.
Asked about the situation, Mariama Jobe popularly called Mariam-ba one of the women mobilizers on gardening and said their initial plea for sufficient water supply was when they put up the nursery beds. "Water supply is far from sufficient for all the beds in the garden", she said.
This situation has compelled these gardeners to resort to drawing water from old abandoned wells in the garden. The process being labour intensive and slow is fermenting their fear of losing the already grown vegetables.
Regarding the use of old wells, The Chairman of Nioro Jattaba Village Development Committee (VDC), Salimina Bah is mobilizing community efforts to initiate a deeper redrill and rehabilitate one of the wells as an immediate and temporal alternative.
"The wells in question had almost been backfilled with garbage and their condition is questionable for the safety of the women."
As the main cause of the water shortage is being established, the community waits for the contractor who they confirmed has promised to respond to the problem.
The garden project is estimated to be worth over one million dalasis to address multifaceted rural needs including women empowerment through life skills and entrepreneurship.