Ghana receives body of fallen footballer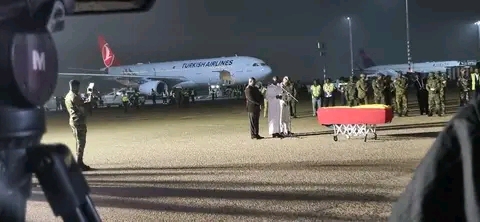 The remains of Ghanaian footballer Christian Atsu, who died after an earthquake hit Turkey two weeks ago landed in Accra late on Sunday, and his coffin was carried away by members of Ghana's armed forces.
Atsu was found dead on Saturday under his home in southern Turkey. He had been playing for the Hatayspor club. The winger who had earlier in his carrier notably represented Porto, Chelsea, Evetron and Newcastle and other European sides also played 65 times for Ghana's national team and helped his side reach the 2015 Africa Cup of Nations final.
Speaking at Kotoka airport in the capital Accra, Ghana's Vice-President Mahamudu Bawumia said: "We hoped against hope, every day that passed, we prayed and prayed. But alas, when he was found, he was no more."
Mr Bawumia added the late footballer was much loved and would be sorely missed. "It is a painful loss, a very painful one."
Promising that Atsu would be given a "befitting" burial.
Atsu had been missing since the devastating 7.8 magnitude earthquake on 6 February caused the collapse of his apartment in Antakya, in hard-hit Hatay province.
The Hatayspor club initially reported the player had been rescued with injuries, but this position was later changed – and his agent confirmed the news of his death on Twitter on Saturday.
Over 44,000 people are confirmed to have lost their lives across south-eastern Turkey and northern Syria.