As a factory fire kills millions of items worth dalasi, an employee calls for help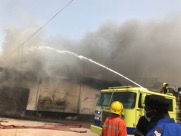 In the early hours of Tuesday, a fire consumed the Nasser Foam Manufacturing Factory office along Banjul Highway, destroying properties worth millions of dalasis.
However, no casualties were reported.
Sulayman Marong, a driver and mattress coverer, urged the government to help them in a press conference following the unfortunate incident.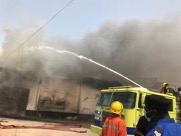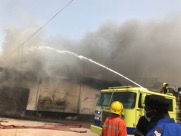 More world leaders send President Barrow messages of congratulations
I've been working here for more than 13 years, and I've seen how the factory has helped me and the country as a whole. The government ought to get involved and assist the management in recovering at least some of the losses.
The fire, which started between 4:00 and 5:00 a.m., did not immediately have a cause.
Nasser Foam Manufacturing & General Enterprises Gambia Co. Ltd. (NFMGE) is a foam manufacturing company that sells its products wholesale and retail. In order to make bed mattresses, chair seats, and other sponge products, the business imports bulk foam sheets, which it then produces locally.
The start of the fire caused half of the building to fall.
A factory worker named Momodou Jallow released the following statement: It was discovered upon arrival at the aforementioned incident scene that the fire had grown out of control.
The anxious Jallow went on to say: I received a call at 5:00 in the morning to learn about the incident. Since everything was completely destroyed, we were unable to safeguard any property. This demonstrates how catastrophic the fire was. The nation as a whole is involved as well as us.
In addition to manufacturing and selling mattresses, Nasser Foam Factory also sells vehicle tires, engine oil, and car batteries, among other automotive products.