National teams preparations :GFF scout for hidden soccer talents at the grassroot .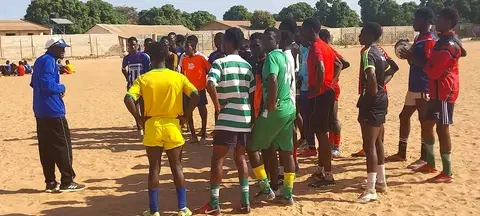 The Technical Department of The Gambia Football Federation (GFF) today began a five-day nationwide tour meant for talent identification under the FIFA Talent Development Scheme.
The delegation's first stop was at Essau in the North Bank Region. About 50 players from various academies in Barra, Essau, and Mayamba were screened.
The GFF Regional Coach for North Bank Region Mr. Bubacarr Demba coordinated the program. Also present was the former Gambia U-17 player, Edirissa Sonko-Faye, who is the CEO of Siboo Academy.
The motto of the scheme is "bridging the gap." The initiative is to give every talent a chance. The scheme will scout talents for training and development and prepare them for future U-15, U-17, and U-20 selections.
The identified players will be given periodic training by the respective regional coaches under the supervision of the Technical Department. The players will then converge at the National Technical Training Centre in Yundum for further training with coaches of the various youth category national teams to prepare them for future competitions.
From Essau, the delegation will proceed to Illiasa, where a similar engagement will be held.
The tour team includes GFF's Grassroots Football Manager Ebrima Nyassi, Regional Coordinator Lamin Sambou, Regional Coach Kebba Nji,e and Ebrima Suwareh the Media Assistant.