Demba Baldeh says asking journalists to get out of the room, is a gross disrespect to our profession.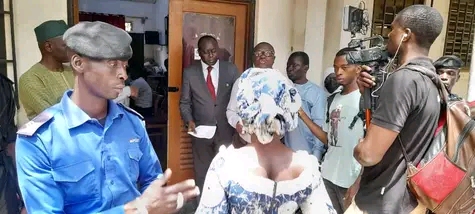 GPU, I hope everyone is doing well. I want to draw members of the Press to something I consider disrespectful to the media. I watch on a few occasions when a group doesn't want media coverage they ask the media to get out so they can discuss private matters. I stand to be corrected, but I have never seen anywhere Internationally where the media gets invited to cover an event only to be told to get out for private discussions.
Unless such a matter has National security implications, the media shouldn't allow being kicked out because a group doesn't want negative coverage. This is a gross disrespect to our profession. Case in point NPP BAC primaries. The media were asked to get out so they could discuss it in close doors. If a group wants that, they can get out of the room, but the media shouldn't be forced to pack their cameras and come back later. Why is this dangerous? We have seen the same groups asking journalists not to record a heated argument or a fight because they don't want the negative press. This should not be acceptable because if an argument turns violent and potentially deadly,
it would be the media's duty to cover the incident. As a result of this mindset, we saw KERR Fatou Journalist for example attacked at the same NPP meeting during the first primaries. GPU should address this in that once our cameras are on and journalists are present, it is a public event and must be covered. Your any thoughts on this, or am I missing something??? If no one else has a problem with this,
then we can let it go… thanks for your thoughts.