Sonko supporters clash with police in Dakar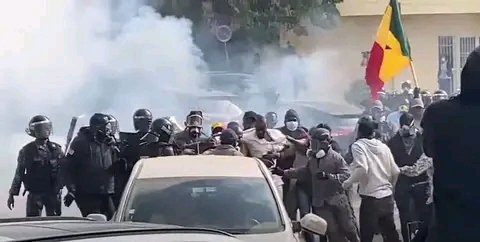 According to the Dakar-based West Africa  Democracy Radio,  today Thursday, March 16, while on his way to court for the judicial process, Ousmane Sonko was intercepted, forcibly removed from his vehicle, and taken to the Dakar court in a Police van. Both pro-government and pro-opposition demonstrations took place on both sides in the Senegalese capital. Unidentified individuals set fire to two public buses. Clashes have also been recorded with the Police.
At the court building, the hearing was suspended forty minutes after its commencement due to a request for a postponement made by Ciré Clédor Ly, a lawyer for Sonko citing that he and Ousmane Sonko were tear-gassed, "I can't open my eyes. I had to open the debate. I am in a physical state that does not allow me to play my role. Ousmane Sonko is also not in a physical state that allows him to participate in the hearing," he argued.
On the resumption of the hearing, Ousseynou Fall, an advisor of Ousmane Sonko denounced the presence of hooded Gendarmes in the courtroom. "There is no question of this hearing being held with these hooded men," he said.
Ousmane Sonko also queried the judge, "you said it's a normal hearing! How does an ordinary hearing require all this deployment?" He also denounced being placed under house arrest.
The PASTEF leader is also facing a separate trial over an alleged rape. The charges against Sonko considered politically motivated by his opposition coalition continue to heat the polity in the country ahead of the presidential elections slated for February 2024.
Clashes and protests have broken out in Dakar as the judicial process against Senegalese opposition leader Ousmane Sonko continues to raise tensions in the West African country.
On Tuesday a rally organized by his party supporters in Parcelles Assainies was approved and progressed as planned. On Wednesday after going ahead with the earlier banned country-wide demonstration, the leader of the opposition PASTEF was restricted from leaving his home as Police barricaded all roads leading to his house. This came on the eve of the libel suit against him by Senegal's Tourism Minister Mame Mbaye Niang.