First Lady launches" zero out of school "project.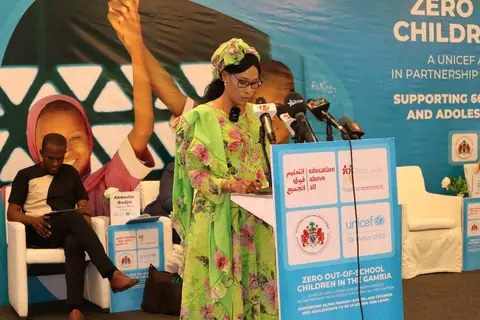 Her Excellency First Lady Fatmatta Bah-Barrow, on Friday, 17th March 2023, presided over the launch of the Zero Out Of School Project in The Gambia at the SDKJ Conference Center In Bijilo.
The project is premised on the fundamental human rights of every child to quality education. It forms part of a decade-long commitment by the Government of The Gambia, Education Above All Foundations, and UNICEF to work together to enable equitable access to quality education, especially for the hardest-to-reach children, to ensure every child in The Gambia is in school and learning.
The Ministry of Basic and Secondary Education, Office of the First Lady, UNICEF, Education Above All, Child Fund, and the Education For All Campaign Network have come together under this project to support access to learning for 66,765 Out Of School Children and adolescents.