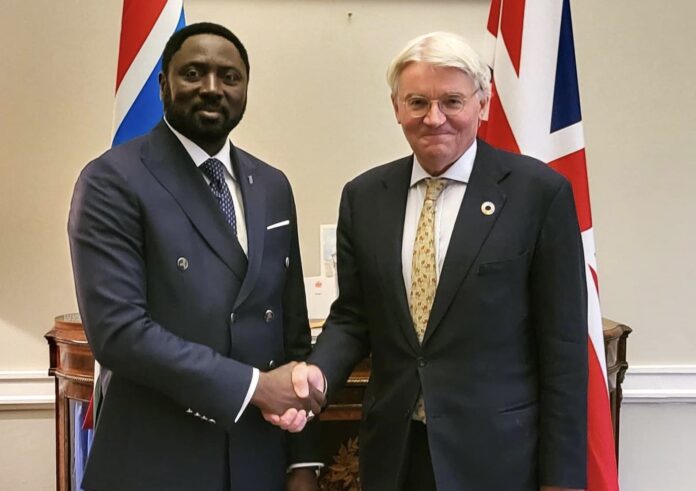 BANJUL, 20 March 2023: The Honourable Minister of Foreign Affairs, International Cooperation and Gambians Abroad Dr. Mamadou Tangara, during his official visit to London on the sidelines of the Commonwealth Day Service and the 22nd Commonwealth Foreign Affairs Ministers Meeting (CFAMM), has paid a courtesy call to the RT Hon. Andrew Mitchell MP, Minister of State for Development & Africa at the Foreign, Development & Commonwealth Office.
The Rt. Hon Andrew Mitchell MP welcomed the Honourable Minister's first visit to the United Kingdom as Minister of Foreign Affairs, and stated that the UK understands that its relationship with The Gambia is meaningful and look forward to further strengthening global cooperation between our two countries for the peace and prosperity of the international community.
In response, the Honourable Minister of Foreign Affairs welcomed the remarks of the Minister of State for Development & Africa and stated that The Gambia views the UK as an important cooperation partner and that he is firmly dedicated in strengthening this partnership in all fields.
Furthermore, the Ministers exchanged their views on current international issues, such as the situation in Ukraine and agreed to strengthen cooperation at multilateral levels such as the United Nations, and make joint efforts to safeguard the purposes and principles of the United Nations Charter.
Both sides also agreed to further strengthen trade cooperation, particularly in the areas of digital economy and green development.
https://www.mofa.gm/fm-tangara-pays-courtesy-call-minister-state-development-africa-foreign-development-commonwealth