Seven years of academic turbulence: University graduate narrates his Emotional ordeal.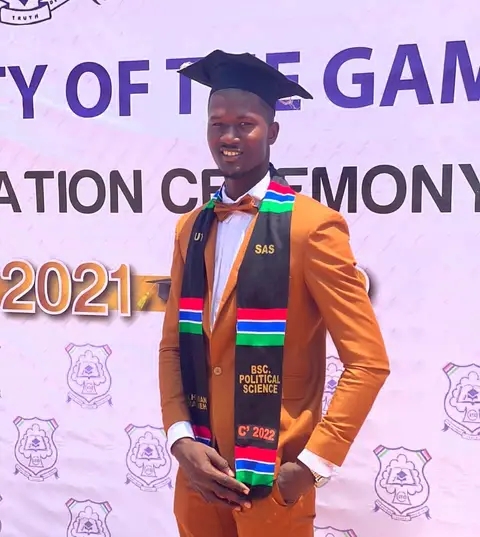 Alhassan Drammeh, a graduate of the University of the Gambia posted on his timeline the hard struggle he endured to successfully graduate.
" I got admission to the UTG in 2016 and graduated seven years later (2023).
I was so broke on my first day of class in UTG and on other days that I had to walk to Brikama Campus from Serrekunda to attend lectures and return home on foot. On days I called good days, I rode my bicycle to Brikama to attend lectures.
I wrote almost all my exams glancing over my shoulder to see if the invigilator was suddenly going to grab my papers and throw me out for not paying my tuition fee.
My batch mates went for their Masters, came back, and still found me struggling to graduate.
I'm not complaining because others have undergone more severe ordeals to get to where they are today.
It was out of sheer determination that I came this far to get a degree even though it took me 7 years to get a BSc in Political Science with Honors.
I wish to thank my family and friends for having my back and everyone else who helped me along the journey.
A special thanks to Emmanuel Hassan, faculty officer at UTG.
If you can't run, jog.
If you can't jog, walk
If you can't walk, crawl.
If you can't crawl, roll.
Whatever you do, never stop moving or believing in your dreams.
This is the beginning of a new beginning. Alhamdulillah x3 "
Alhassan Drammeh