Heart-broken by fire outbreak: President Barrow promises to build the entire Brikama Market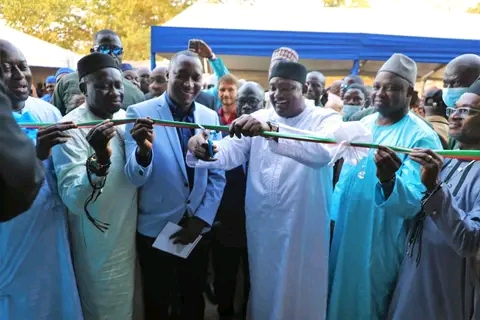 President Adama Barrow Monday inaugurated the newly constructed Brikama market amidst fanfare and jubilation, replacing the old one engulfed by an inferno in late 2022.
In his inaugural statement, President Barrow said the damage was heart-breaking, especially for the new business that had just been established.
''Upon receiving the news, my government promised to rebuild the whole market. It is most gratifying that, despite all the global economic crises, the Government was able to fully fund the first phase of the Market Project at an estimated cost of thirty-eight and a half million Dalasi (GMD38.5 million),'' he noted.
Citing the recently inaugurated North Bank Roads Project, the President said the opening of the new market is a testament to his government's conviction to provide for Gambians basic services that will enable them to live dignified lives.
President Barrow further stated his government's commitment to revitalising the economy by improving businesses and business centres, adding,  ''already, we have built markets in Farafenni, Soma, Basse, and Latri-kunda. These centres facilitate trade and commerce, enhancing income creation for businesses within business-friendly environments.''
The President thanked the stakeholders for the speedy and efficient completion of the first phase, which comprised 88 stores and other facilities.