President Barrow says new buses to  ease transportation ,create employment.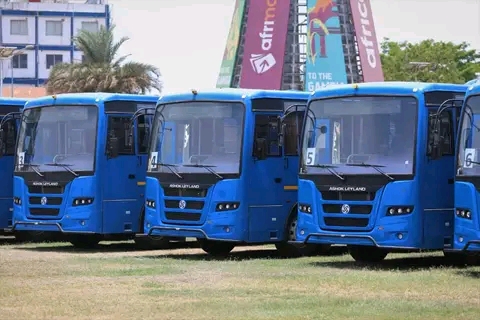 In a moderate but historic ceremony today in Banjul, President Adama Barrow inaugurated 70 new buses, 59 of which will be utilized for public transport and the remaining 11 for school transport.
In his inaugural statement, President Barrow said the commissioning of the buses is a significant milestone in the country's road communication.
He added, "This development is not accidental. It is a timely strategic initiative designed to accompany the infrastructural upgrading of our national road network through the improvement of the existing roads and construction of new ones, particularly in areas where the need is greatest."
Highlighting the event's significance, the President said the buses would not only ease mobility challenges but also create employment for many people.
While thanking GTSC and TK EXPORT for their cooperation, President Barrow paid homage to the late VP Joof for championing the negotiation of the vehicles on behalf of the Gambia government.
Following the ceremony, the President, accompanied by his cabinet, senior government officials, and some public members, embarked on a maiden ride on the buses.