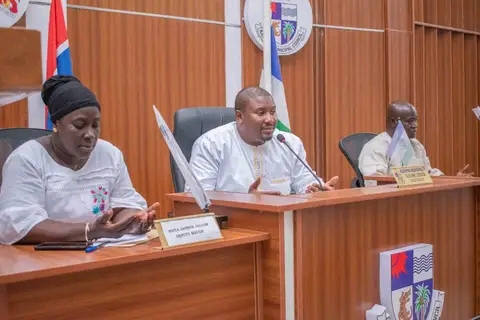 In what could be described as an emotional farewell, the General Council of KMC has been indefinitely adjourned as the term of the mayor and councilors ends.
" Today is the 65th and final session of the General Council marking a 5-year Tenure for the Years May 2018 to April 2023. This Multi- Partisan Council with a multi-talented directorate and a brilliant support staff has run the council as a democratic, efficient institution that has changed the narrative on what Councils are capable of," said Mayor Bensouda.
As the councilors head for elections they bid farewell to the management and staff who exchanged pleasantries and wished them all the best of luck!
The lord mayor further said the Nation building is about representing the diversity of views of the citizenry and finding a middle ground to make it work and this council has been a proof of concept.
"We had highs and lows and fought for our people with everything at our disposal. We won many times and lost sometimes but our resolve to serve is unquestionably more robust than when we came.
As a final decision the council via a transitional resolution vested trust and confidence in me to continue to steer the affairs of the institution until the swearing-in of a new body.
It's been an honor to serve with all of you, and though we have different affiliations, quarreled, and got along many times as is the norm with any family, our mutual love shall persevere beyond our tenure in this great place!
This session's General Council is hereby ADJOURNED!"