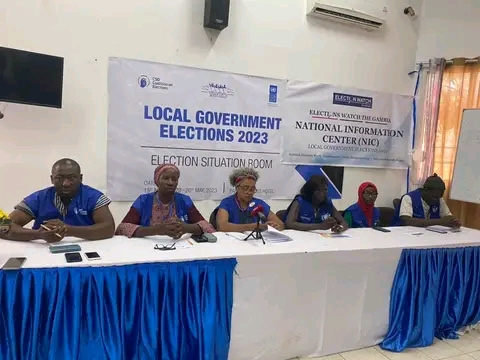 Following their thorough observations on the 2023 local government elections, the Civil Society Coalition on elections, the Gambia,  in. its preliminary declaration recommended actions on pending electoral reforms.
In its marathon recommendations, the CSO coalition said they are disturbed by the lack of legal reforms surrounding elections.
"We are even more concerned that for many years now the Election Bill has not been passed at the National Assembly. The issues of attestation, diaspora voting, campaign financing, and the timing and the combining of elections such as councilor and mayoral/chairperson elections among other issues are all pertinent to achieving high voter turnout, the attainment of free and fair elections, and the upholding of the rights of all Gambians. "
they further called on the National Assembly, the Government, and the political parties to take urgent steps to ensure that the Election Bill captures all international electoral norms and best practices to ensure free, fair, and transparent elections.
"In this regard, we wish to also call for necessary and urgent institutional reforms at the IEC to modernize its operations with the use of technology to become more effective and efficient in its conduct and oversight of elections and electoral stakeholders. "
As part of their preliminary declaration, The CSO Coalition on Elections commends Gambian voters for coming out to exercise their fundamental right to vote hence strengthening democracy and good governance in the country.
"We wish to state that the credibility and strength of our democracy rest on the quality and level of citizen participation. There cannot be good governance and sustainable development so long as most citizens do not vote in elections. We wish to therefore urge all Gambians who have reached the age of voting to endeavor to register and ensure they vote. "
…………………………………..……………………..