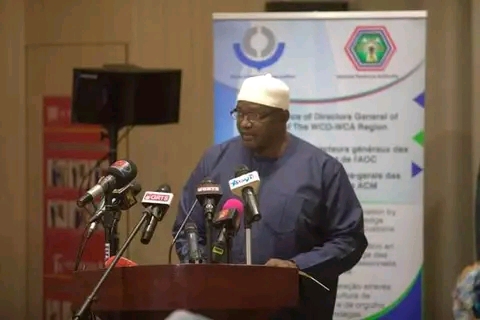 This morning, President Barrow presided over the opening of the 29th Conference of World Customs Organization (WCO)- West and Central Africa Directors General, at the Sir Dawda Kairaba Jawara conference center in Bijilo.
"The theme of this conference, "Nurturing the Next Generation by Promoting a Culture of Knowledge Sharing and Professional Pride in Customs," is quite captivating and thought-provoking. It mirrors the aspirations of the African continent to strengthen South-South cooperation in our collective drive for self-reliance and the attainment of our development goals.
He added that With the creation of the African Continental Free Trade Area by the African Union, the need to share knowledge continues to increase by the day. Of necessity is also the capacity enhancement of Customs Administrations for use as a basis to further develop the knowledge and skills required to tackle the challenges that plague the continent.
"Through cooperation, African Customs Administrations can work together more efficiently and effectively to deliver better results. Indeed, cooperation is a sure means of developing and applying joint solutions to remove barriers that hinder progress."
"As we seek to fully integrate our economies gradually, I implore you all to craft ways of fostering cooperation and sustaining a culture of sharing and updating approaches, trends, perspectives, and insights."
President Barrow recognizes the crucial role that Customs plays in promoting economic growth, ensuring national security, facilitating international trade, collecting data, and protecting our environment and cultural heritage.
"To register greater results in these areas, it is critical to take steps that would adequately prepare and equip the next generation of Customs officials to ably face the challenges of the future.
This is achievable only through a culture of information, knowledge, and data sharing, which is essential for the development of Customs officials and the efficacy of our systems. Customs administration is constantly evolving, so new generations of officials must be kept up to date with the latest developments and trends."
He further stated that, By sharing knowledge and experiences, it is easier to learn from one another and adapt to changing circumstances more quickly and more effectively.
"In addition, given the laudable contribution of Customs services to the world, knowledge sharing is necessary to promote a culture of professional pride, value, and respect within the sector.
This conference provides an opportunity for Customs officials to engage with the wider community, learn from their experiences, and celebrate their successes. It is thus a source of motivation for excellence in service and an avenue to sustained performance and bigger achievements".