World Expo 2030: excellent feedback from BIE members after a visit to Busan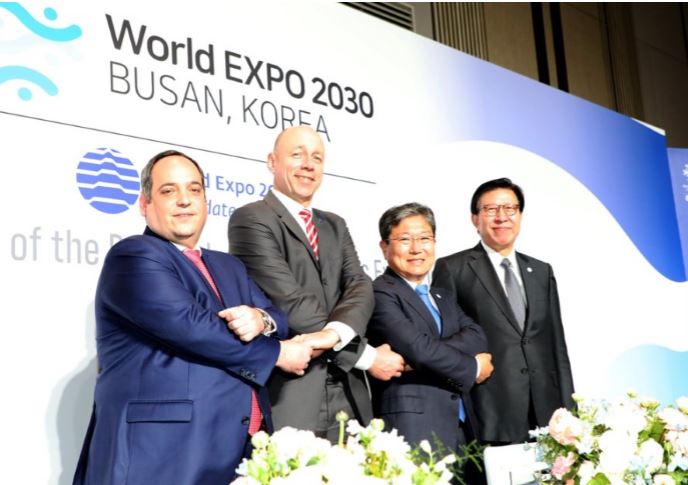 Busan, South Korea is in the running to host World Expo 2030. Indeed, the country has embarked on an ambitious project to host the 2030 Expo in its futuristic city of Busan. With the theme "Transforming our world, sailing towards a better future", the authorities have made this bid a priority project. In early April, they received a delegation from the Bureau International des Expositions (BIE), who had excellent feedback after their visit.
The mayor of Busan, Hyeong-Joon Park, informed that the delegation of the BIE has estimated that the city of Busan has all that it needs to welcome the world exhibition. The eight BIE delegates visited the proposed host sites in Busan, including Busan North Port, and met with citizens from all walks of life while inspecting the city's preparations for the 2030 World Expo.
The mayor noted that Patrick Specht, the head of the delegation visiting Korea for the first time, said Busan is a very advanced city. The eight BIE members walked through the LED rose garden and listened to explanations about the giant lanterns, which were made in the shape of historical buildings and statues representing past world fairs. The BIE members then boarded a boat that symbolizes "the journey of hope for the Expo." They also visited the experience booths of Korean conglomerates, listening to explanations of new technologies from companies through mobile translation devices.
The delegation also visited Gwanghwamun Square in central Seoul, where promotional events were held to support Busan's bid to host the 2030 World Expo.
At a press conference, delegates from the World Expo organization said they were particularly impressed and grateful for the enthusiasm shown by citizens on the streets.
"Busan has everything it takes to host the world's fair," said Patrick Specht, chairman of the BIE's administration and budget committee. "In terms of hospitality, Busan is excellent.
The on-site inspection report will be submitted to the BIE General Assembly scheduled for the end of June and will be shared among the 171 member countries.
Busan is competing with three other candidates: Rome, the Saudi capital of Riyadh, and the Ukrainian city of Odesa. The host country of the 2030 World Expo will be decided by a vote of the BIE general assembly to be held in late November this year.