"Seedy Sheriff Ceesay possesses the profile suitable for an efficient and quality leadership."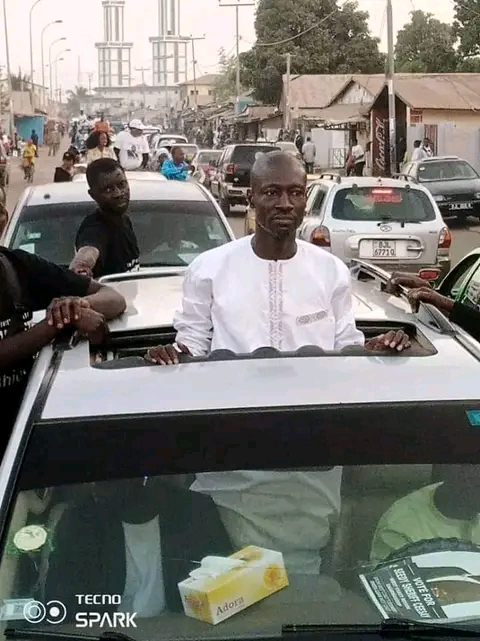 THE DRAFT MANIFESTO
Possible Slogans
''Making West Coast Region great, for the people, by the people and with the people''
''Change is not only possible but necessary for local development''
EXECUTIVE SUMMARY
West Coast Region is the country's most populated and fastest developing region. Brikama Area Council being the institution responsible for local and community development deserves a visionary leadership that is pragmatic, brings meaningful change to the life of the people, addresses the daily needs of the regions and improves the standard of infrastructure.
Brikama Area Council is a local government body created by the Local Government Act 2002, legally charged with the responsibility of collecting rate and other tax obligation as prescribed for the development of the local areas.
In light of the above mandates Brikama Area Council is established at its goals to be the decentralized arm of the central government and to perform such functions and service to the communities that it serves.
Demographically the 2013 census, shows that the region had a population of 699,704 with a population density of 397. The total number of households was 45,396 as of 2003. As of 2003, the total area of the region is 1764.3 km2. The infant mortality rate was 71 for every thousand births and the under-five mortality was 93 per every thousand births. The poverty gap ratio was 22.4 per cent and literacy rate was 69.7 per cent as of 2003. West Coast Region, now the Brikama Area Council, is divided into nine districts, namely, Foni Bintang, Foni Bondali, Foni Brefet, Foni Jarol, Foni Kansala, Kombo Central, Kombo East, Kombo Central, Kombo East, Kombo North and Kombo South. The city and area council elections were held every five years during the month of April. It is no doubt that BAC has the potential to deliver service to its population. However, this will in no small measure require quality and competent leadership. A competent and honest leadership can leverage on its potential revenue based to bring the needed service to its people.
The secret to success in any development endeavor require the commitment of leadership to enhance grassroots participatory development. This require that the government empower the grassroots with adequate information and resources to function. The NPP government is no doubt cognizant of this fact to be self-evident. Supporting and backing an all efficient and responsive leadership is critical not only for the attainment of grass root development but for overall national development as envisioned in the National Development Plan (NDP).
Seedy Sheriff Ceesay possessed the profile suitable for an efficient and quality leadership. He is a prolific social worker, an amazing leader, and a patriotic citizen with combined persona that is unmatched and unparalleled. Seedy is not only ready to lead but he is a born leader. This is evident by his selfless service in the youth fraternity. He is a compassionate youth advocate with a measure amount of pedigree and excellence which combine gives him an edge over his competitor.
REGION PROFILE
West Coast Region, originally known to Western Division, is one of the five administrative region of the Gambia. Its capital is in Brikama. It was subsequently reorganized as the Brikama Area Council, without any change in the area covered.
As per 2013 census, the region had a population of 699,704 with a population density of 397. The total number of households was 45,396 as of 2003. As of 2003, the total area of the region is 1764.3 km2. The infant mortality rate was 71 for every thousand births and the under-five mortality was 93 per every thousand births. The poverty gap ratio was 22.4 per cent and literacy rate was 69.7 per cent as of 2003. West Coast Region, now the Brikama Area Council, is divided into nine districts, namely, Foni Bintang, Foni Bondali, Foni Brefet, Foni Jarol, Foni Kansala, Kombo Central, Kombo East, Kombo Central, Kombo East, Kombo North and Kombo South. The city and area council elections were held every five years during the month of April.
Brikama Area Council is one of the largest and most densely populated Local Government Authorities in The Gambia. It is a body mandated by the Local Government Act 2002 to collect taxes within their region, formulated policy and to manage and implement programs for the social service of its inhabitants.
As of 2020 Brikama Area Council received a total of GDM 90,077,527.70 in revenue making it the second most economically viable council in the country. With this vibrancy comes with enormous revenue power based which is expected to bring the anticipated development to its inhabitants.
Vision:
To make West Coast Region united by purpose, and transform the council into excellence in service delivery and accountability and restoration of integrity in participatory leadership.
Objectives:
To transform BAC into a service delivery center through accountability and performance
To construct streets and increase access and movement of goods and service.
To intensify the revenue based potential of the council, through digital revenue collection and E-banking
To make BAC accessible and accountable to the people it serve
To enhance service delivery and social infrastructure through programs and initiative developments.
To intensify partnership and cooperation with potential meaningful partners especially in infrastructure and economic development initiatives.
THE STATE OF WEST COAST AND WHAT COULD BE DONE
As earlier mentioned Brikama Area Council is one of the most densely populated administrative regions and the second most powerful revenue based council in the country. It has a revenue potential that when properly and effectively utilized can bring about unprecedented development to its inhabitant. Sadly this reality is far fetch considering the multiplicity of challenges that it is face with.
On the basis of our observation and the majority opinion of the council the following challenges are relevant to highlight for policy and administrative consideration;
Challenges in Planning: The state of affairs of the West Coast Region is as a result of the inadequacyfailure of the Brikama Area Council to set up common sense plans and implement them effectively. The BAC is central to the development of West Coast Region, It is the government organ responsible for, service delivery, community driven development and planning initiatives. Since no development entity in history has ever attain any meaningful development without creating rational plans both in the short, medium and long term. In this regard Brikama Area Council failed woefully to have a plan that progresses with the development of the local government authority. The region lacks a master plan. Such a catastrophic failure would make it harder for any effective infrastructural development today much more in the future.
Considering that the availability of land space is key to any meaningful economic development initiatives, the next generation will be over burden with our failure to create reserve lands in the region for future development. Hence sustainable development plan on land management and distribution is essential.
Sanitation: It goes without saying that the current day state of sanitation in West Coast is not the least expected. Considerably, Kombo North, Kombo South and Kombo Central districts are becoming more and more urban. With this trend compounds are now becoming smaller and dense leaving little or no space for dumping of household waste. The transformation therefore, requires an area council that will be practical in addressing thrash and garbage collection and management both in the short and in the longer terms physical plan. In today's world waste collection and management is a scientific process which requires a scientific solution. This is what I intend to bring to Brikama Area Council. The status quo requires knowledge, effective management and the creation of an efficient garbage management system. BAC today operates a skeleton garbage collection program that is inefficient, weak and ineffective. The growth in the population means more people and more garbage unless effective management systems are put in place. This cannot be achieved without good leadership that is responsive to the needs of the people of the region.
Streets: Although some success has been registered especially in the past half-decade in this area of infrastructure. The construction of the Jambarr Sanneh road, the rehabilitation of the market streets and few others is indicative of the modicum progress registered by the present administration, however, considering the demand and needs of the people not enough has been done to ameliorate the deplorable street condition of our council.
Suffice to say, the failure to initiate a comprehensive programme to address this menace has remained a challenge, thus a daunting one. Impeding access and economic potential of council is often the most apparent menace. Very often hiden in this apparent problems is, poor town planning. This is evidence by the fact that most of our streets built are narrow, unpaved and inaccessible during the raining seasons.
To address this menace a common sense street development program must be created. This will ensure that streets in West Coast will be classified into categories of A, B and C. The A category streets will be the first priority and would be classified as such due to its economic potential and usage. They are going to be the main roads in every community. They will be our priority for construction with concrete Cement. The second class which will be the B category street will be paved with gravel to enable their usage throughout out the year especially in the raining seasons. The third category will be the C class streets. This are the less busy streets and would be our long term development target. My term will therefore focus on the first grouping of streets all around the region for development service.
Markets: rapid population growth is putting pressure on the existing market infrastructure. Therefore, to increases awareness to this fact and the need for more markets across the region's vital centers/communities is critical. New Markets have to be built in major centers/communities across the region and the existing market to be upgraded. To this end we will initiate the ''Brikama Market Expansion Program'', where we will annex and relocate the area from the Vet nary office to the police office as part of the market. The plan is to relocate those public institutions to new area and new facilities to be built for their operations. It is our conviction that such an initiative will help transform the Brikama market to reflect modern standards,
Sanimentareng Major Market: As part of my Market Transformation Program, my plan is to construct a major market at the Sanimentereng area near the Brufut fishing center. From the highway to the ocean front. The new market will serve vegetable vendors, the fishing center and create stalls that will cater for the fashion, cosmetics and other food items. This will not only solve the market crisis in the region but also increased the revenue potential.
Tanjeh Fishing Center Market: Another major market will be constructed at the Tanji fishing center. This will cater for a holistic plan for the fishing center and enhance its commercial potentials. The new plan will address all the dynamic needs of the market. It will cater for the multiple economic activities at the fishing center.
Garages / Car Parks: West Coast Region lacks garages. Road sides are used as garages all across the region, thus creating a burden on free movement of people and goods. The situation contributes to the slow movement of traffics. The lack of garages is a major road hazard. It undermines safety of people and goods in our communities. My plan is to build garages across every critical centers in the region. Which will be captured in the regional development master plan. Nevertheless it is significant to note that garages will be created in an organized fashion. In that the Brikama central garage will remain the major garage and another garages will be constructed to cater for traffic demands.
A major garage will be created around the Kabafita forest pack to cater for transport coming from Farato and beyond. The plan will put to an end the movement of Vans, trucks and Gele-geles into the inner towns. Thus ensuring safety and free movement.
Another major garage will be established around the "furuyari" forest pack between Brikama and Kembujeh. This garage will cater for all vehicles going to Kombo East, Foni and the rest of the provinces. None of the vehicles will be allowed to reach the center of Brikama.
For vehicles coming from Dimbaya and Darsilameh area, a minor garage will be created around Madina Sallandingto.
For all the vehicles coming from Kombo South (Gunjur and Sanyang) a Kombo South garage will be created in the Jamisa area.
Another central garage will be created inside Brikama to cater for internal taxi service. It will bring all town taxis to one location. Taxis will also be the link between all the minor garages and the central garages.
The idea is to ensure that Brikama market area will be completely sealed off from all commercial transportation services thus ease the congestion.
Urban Garrages: New garrages will be created on the Brikama – Serekunda Route, Sukuta – Jambanjelly route, Airport Senegambia route, Sukuta / Tanjeh – Kartong route, Brikama – Gunjur route.
Brikama Serekunda Route: On this route new garages will be created in Farato at the junction to Jambur. Between Busumbala and Yundum, a new garage for local taxi services will be created. At the Airport Junction, a central garage for both local taxis and major commercial vehicles will be establish at the intersection. A garage will also be created to cater for both local taxis in and around Lamin as well as for commercial vehicles to Mandinaring and beyond.
Sukuta – Jambanjelly route: On this route, a major garage will be establish at the Sukuta / Jabang Traffic Light Junction. A local garage for local transportation will be created between Latriya and Jabang. At the Jambur Junction connecting the Farato Jambur, a garage will be established to cater for local taxi services. In Jambanjelly where the road ends, a new central garage will be established. This will also cater for transports heading further to Sinchu Wurrie and the surrounding area. It will also serve as the base for the local taxi service.
Airport – Senegambia route: On this route, the airport Junction central garrage, the coastal road junction garage will also be created, this will cater for the major commercial vehicles as well as local taxi services. We will have the Sukuta / Jabang Junction Traffic Light garage. A central garage will be established at Brusubi Turn Table and a special taxi garage at Senegambia for both the local taxi service as well as the tourism taxis.
Sukuta / Tanjeh – Kartong route: On this other route, The Brufut Turn Table garage will be the major intersection point. A garage for Brufut will also be created at the Sanimentereng area to serve the new market to be established there as well as vehicles to Madiana and Banyankang. At the Tanji fishing center, a garage will be built alongside the new market. A garage will be created both in Tujereng and Sanyang for major commercial vehicles and local taxi services respectively. The Gunjur garage will be enhanced whilst Kartong will get a new garage.
Brikama – Gunjur route: A central garage will be in created at Jamisa for both major commercial vehicles as well as the local taxi services.
Major emerging communities in Kombo East and the Fonis will also be supported with garage plans. This will ensure that the future garage needs are address today. Hence sustainable development
Street Lightening: Based on the street categorization, all those who falls on category a will also be programmed for installation of solar street lights. A solar lighting program will be launched called "West Coast Solar Lighting Initiative". This is intended to brighten the region and enhance safety. This will be implemented under the BAC / Community Partnership Program that I will launch with the program
Access to Safe Drinking Water: access to safe drinking water is a fundamental human right and thus it is non-negotiable. It is also at the heart of area council's mandate. In the age technology and science, it is no excuse to know that communities exist in the West Coast Region that still drink from well water. They lack access to safe drinking water. Majority of those communities are in Foni and in the Kombo East, part of Kombo Central and Kombo South.
To address this, he BAC will launch bore drilling program that will ensure the provision of safe drinking water to all communities. The initiative will be implemented under the BAC / Community Partnership Program. It will drll boreholes for communities and would let communities manage their operations. A limited revenue will be generated from each bore annually to ensure there continued operation.
Community Parks and Recreation Centers: At the moment there is no plan s at the Brikama Area Council for Community Parks and Recreation Centers. Our children lack play grounds. As urban spaces become congested, yet there is no parks, no recreational facilities and nothing available for social programs. Under the urbanization program, a facet of social facilities will be created. Parks, Town Halls, Recreational Facilities, kids play grounds will all be established one by one to cater for the urbanization needs of our communities.
Environmental Management and Protection: There are numerous challenges facing the environment in West Coast Region, Brikama Area Council under my leadership will be formidable in addressing those challenges. The depletion of our forest cover and how we can recover them, protection of the flora and Fauna, protection of natural ways to help support free flow of water especially during the raining season to avoid floods, proper rehabilitation of mines amongst others.
Land Allocation for Graveyards / Cemeteries: The continued increase in population also means that more graveyards and cemeteries for both Muslims and Christians need to be recreated and reserved. This would ensure that our people don't have to travel kilometers just to get to the nearest graveyard.
Reserve Lands: Generally, Brikama Area Council will develop a special program for land reserves. This is to cater for future development programs for schools, sporting facilities, hospitals, and other public facilities.
PRIORITY AREAS OF INTERVENTION:
PRIORITY 1:
Provision/extension of water and electricity
To improve efficiency of existing boreholes and construct new ones, especially in rural areas.
Support extension of pipe water to underserved urban settlements
Provide cattle drinking points, where feasible, at boreholes to ease challenges faced by cattle herders
Support the provision and extension of electricity in areas not connected or under-served.
Restore dysfunctional street lights, and provide them in areas without lights
PRIORITY 2
Waste collection, management and sanitation
Improve waste collection from markets, homes and authorized dumpsites.
Strengthen the fleet of waste collection vehicles
Provide additional septic tanks to cater for adequate waste disposal
Install hydrants where necessary, and clear emergency services' access to Brikama market and other major markets
Increase engagement with communities on anti-littering strategies and enforcement mechanisms
Seek partnerships for proper waste management at the Tambana dump site, including recycling opportunities
Introduce Cleanest Ward Awards to focus attention on keeping our neighborhoods clean.
Provide sanitation profile of each ward: their practices of defecation and the consequences; and create a scheme that would lead to collective action and peer control to become ODF, Open Defecation Free.
PRIORITY 3
Road infrastructure development
Rehabilitate or construct feeder roads, and improve their maintenance service, to facilitate access to social services and markets
Conduct feasibility study for a comprehensive drainage system for Brikama and major urban settlements
PRIORITY 4
Support to boosting economic and social activity; women and youth empowerment initiatives.
Construct/upgrade markets in major settlements and clusters to facilitate access to markets.
President Barrow has inaugurated a newly constructed 38-million-dalasi Market in Brikama
Construct adequate storage facilities in major markets for preservation of garden produce
Facilitate access to farm inputs and implements operated by Council and accessible by communities
Promote expansion of cultivable land, including addressing salt intrusion to increase potential for farming
Provide basic infrastructure and facilities for rent around fish landing sites
Provide Ward Development Fund for community-initiated projects
Facilitate access to micro-finance to support income generation activities
Encourage/promote establishment of processing facilities and factories in the region
We will seek partnerships to create Tech hubs and incubators, to make more of the collaborative, participatory potential of digital technology, including participatory budgeting and the crowd funding of good ideas
We will introduce a Civic Council – a new platform for the engagement of civil society to create innovative solutions to social problems.
PRIORITY 5:
Support to strengthening education and health services provision
Engage health authorities and seek support from other sources to revamp/upgrade existing health facilities through adequate staffing, supplies and accommodation
Support the provision of equipment needed to make the mortuary at Bwiam General Hospital operational
Facilitate completion/operationalization of Ndemban Technical and Vocational Education and Training center for skills acquisition
Support construction of a regional rehabilitation center for persons with disability in Jambanjelly
Engage building constructors to think about how best to make buildings, especially those meant to be used by the public, accessible to people with limited mobility, or impaired sight or hearing
Engage education authorities for provision of additional senior secondary schools to ease burden of commuting
Increase educational sponsorship to needy students
Support the operation of the schools for visually impaired (Start now) and hard of hearing (GADHOH) in Brikama
PRIORITY 6:
Environment and climate change mitigation and adaptation
Encourage regeneration and re-forestation through intensive tree planting exercises, especially mangroves and other trees along the beach
Strengthen community forest concept for sustainable environmental management, control of bush burning and protection of the forest
Promote the use of energy-efficient cooking stoves, and the use of ozone-friendly technologies and practices in our uses of energy.
Raise public awareness through sensitization on climate change issues
Identify/create public green spaces/parks and gardens for recreational use
PRIORITY 7:
Enhancing revenue collection and administrative efficiency
Conduct staff assessment with a view to recruiting qualified and competent staff in various Departments
Strengthen staff capacity through training in relevant disciplines for enhanced service delivery
Address information and communication gap between council and communities through radio talk shows and other media platforms
Encourage alkalolu to work with collectors to reduce arrears build-up and regularize the issuing of receipts
Ensure effective collection and accounting of council revenues by establishing a comprehensive and updated database of ratepayers
Expand and conduct regular valuation of properties
Provide hotline for residents to lodge complaints against any malpractice by council staff/collectors
Implement the government Integrated Financial Management System in collaboration with, and support from, the Accountant General Department to ensure more efficient financial management
Embark on street naming and numbering to facilitate identification of ratepayers and collection of rates
REFORM AGENDA:
Policy and Structural Reforms
A comprehensive redesign land documentation process
Revitalize VDCs and Ward Development Committees as entry points to community development.
Introduce resource mobilization and control units with adequate mandate to make a change
Introduce and adequately support a monitoring and evaluation framework in the operation of the council
Economic and Financial Reforms
Introduce technology in Revenue Collection and Management.
Make BAC proactive solution driven
Make BAC an investor and investment partner to enhance employment creation and reduce the burden on the central government
Strengthen and adequately resource council revenue collection system to be expanded and transparent
1. Policy and administrative agenda
Establish agriculture investment unit
Establish Human Resource unit
Review of the council strategic plan with strong target verification and monitoring
2. Service
Sanitation and accountable environmental operations through provision of equipment and space
Boreholes: Access to water
Streets Construction and expansions
Street Lights
Transportation structural creation
3. Finance and Investment
Markets: Building New Markets or at least create reserves for market expansions
Women Business Fund
Promote and finance Eco-Tourism
Focus and invest in Agricultural mechanization.
Create a strategic funds for business and private sector development
Investment in treasury bills and funds multiplication
5. Infrastructure Development
Creation of Garages in strategic Urban locations
Allocation of land for Cemeteries in urban centers
Creation of reserve lands for development projects
Prioritizing drainage to avoid floorings
Reduce squatter market vendors to more formal structures and create conducive environments for service delivery in the markets
6. Youth and women
Women empowerment fund
Youth Entrepreneurship Fund
Mentorship for youth and women start ups
Create and operate vocational skills centers for blue colored job creation
7. Sports
Create a sports support and coordinating unit in collaboration with relevant stakeholders to facilitate sports development in all front
Create and fully support regional sports advisory committee to facilitate sport policy formulations
Invest in sports centers as public properties to facilitate community health and rehabilitations
8. Health
BAC will subsidize health centers to ease the burden on central government and through the partnership with the ministry create working groups to monitor service delivery
Create a funding mechanisms to help in the expansion and development of staff and equipment for the health centers and hospitals in the region
Through the central government strategies seek partners to invest in hospital building and service
9. Education
BAC will try to create public schools and in some cases partner with the private sector to build schools and operate them with the support of central government
Subsidize and create an award to schools with the best outputs in terms of results and curriculum
10. Community engagement
BAC with local radio stations in the region will sign memorandum of understanding to enhance community outreach and as part of that will create chairman's hour every month to talk policy directions and implementations of services
APPROACH:
BAC / Community Partnership
Training and Strengthen VDCs for accountability and public engagements
Bring VDCs to the center of community development proper accounting and strategic implementation of council local initiatives
Make VDCs Accountable.
Strengthen Ward Development Committees.
Seeking strong partnership through government strategic blue print to attract investment and job creation
Seeking legal mandate and reforms to allow proactive council operation
Put council activities to enhance government visibility and strategic plan accomplishments
With the Governor's office create a think tank of indigenous people of west coast to tab strategy and policy
Public Private Partnerships
Public Private Partnership creations and mobilizations for investment and job creation
Public community partnerships to implement local projects
Public-public partnerships to facilitate service delivery to our people through the government machinery
Partnership with civil society to enhance transparency and community education and sanitization