President Barrow arrived in Bissau ahead of the  ECOWAS Submit.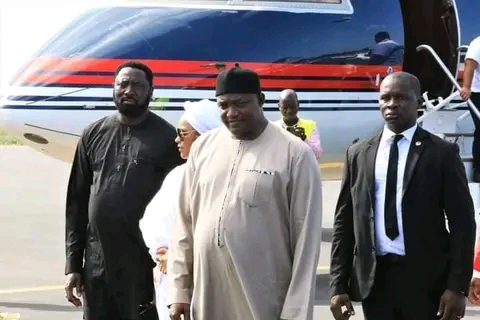 President Adama Barrow accompanied by a high-powered delegation arrived in Bissau on Saturday evening ahead of the 63rd ordinary session of the Authority of ECOWAS Heads of States and Government scheduled for 9th–10th of July 2023 in Guinea Bissau.
The Sixty-Third  Ordinary Session of the Authority of Heads of State and Government of the Economic Community of West African States (ECOWAS)  is expected to begin later this morning.
The Heads of State will be considering reports from the Ninetieth Ordinary Session of the ECOWAS Council of Ministers meeting held from July 6 to 7, 2023, in Bissau and other issues affecting the region during their session.
The top agenda of the discussion is centered on the three military governments of Mali, Guinea Conakry, and  Burkina Faso and how they can speed up the transition to democratic rule by organizing elections as soon as possible.