The Gambia Government safely reunites Gambian migrants with their families ,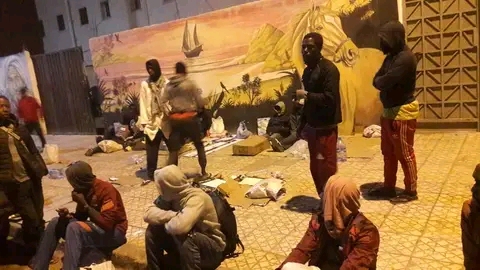 The Gambia Government through the Ministry of Foreign Affairs, International Cooperation and Gambians Abroad (MOFA) informs the public that on Monday 3rd July 2023, Senegalese authorities intercepted one hundred (100) Gambian migrants on a boat sailing across Senegalese territorial waters. Fifty-nine (59) of the migrants absconded while the remaining forty-one (41) were processed by The Gambia High Commission in Dakar and safely reunited with their Gambian families on 4th July 2023.
Similarly, on the 28th of June 2023, a boat carrying sixty (60) Gambian migrants was intercepted by Mauritanian authorities in Nouadhibou. While nine (9) absconded, fifty-one (51) were safely reunited with their families on 30th June, 2023 through the Gambian Embassy in Nouakchott assisted by The Gambia Red Cross Society and the Mauritanian Red Crescent.
In a related development, the Royal Moroccan Navy recently intercepted at sea a boat with seventy-one (71) Gambian nationals. The Gambian Embassy in Rabat and the Consul-General in Dakhla worked with the Moroccan authorities to ensure their safe evacuation to The Gambia. Forty-one (41) of the 71 Gambians safely arrived on the 21st of June, 2023 as twenty-three (23) absconded before departure.
Furthermore, the International Organization for Migration (IOM), in collaboration with the Ministry of Foreign Affairs and other stakeholders facilitated the repatriation of hundred and fifty-six (156) stranded Gambians from Libya on the 24th of June, 203.
Regarding the disturbing video of migrants in Tunisia circulating on social media, the Ministry of Foreign Affairs is closely working with the local authorities, IOM, and Gambian missions in both Morocco and Mauritania, to ascertain their numbers and verify their nationalities as part of the evacuation procedures.
The Ministry of Foreign assures the public of its continuous work for the safety and protection of Gambians abroad.