Ambassador Amie Fabureh visits Gambian Families in Guinea Bissau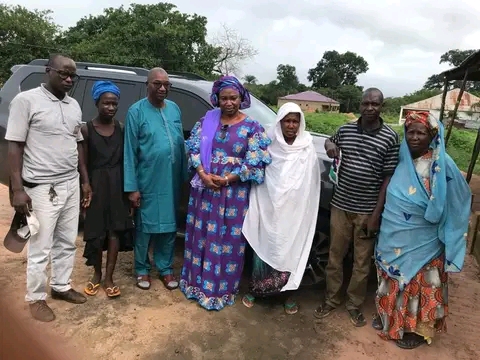 The Ambassador of The Gambia in Bissau Her Excellency, Madam Amie Fabureh  used her public holiday to visit the family of the late Alagie Jarjue to express condolences for his demise. Alagie Jarju originally from Brikama lived in Kanchunku for about three decades and had been host to most Gambians who visited and  lived in the town. Accordingly, most people described him as humble, kind, religious and very supportive to Gambians.
The wife and other family members expressed delight for the Ambassador's visit and prayed for her a successful tour of duty.
The Ambassador also used the opportunity to visit some other Gambian families including the family of one Musa Ceesay from Faraba Bantang.  They all expressed delight  for the visit as it is unprecedented and also prayed for the Ambassador and the team.
The team was taking to the site where a Gambian youth Alagie Secka had an accident and passed away. Accordingly, he was riding a motorbike and knocked the "Jallo tree" and could not survive it.
The Ambassador and team thanked the families for their warm welcome and hospitality and promised that she will collaborate with them to support the welfare of Gambians.