"Our planet's delicate ecosystems are a treasure we must safeguard"-BAC Chairman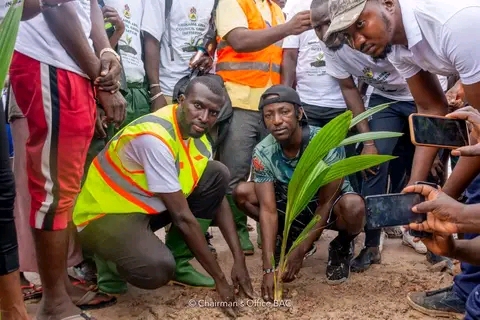 Yankuba Darboe,the chairman of Brikama Area Council has stressed the significance of tree planting/growing noting that nurturing the  ecosystem is crucial for a sustainability future.
Chairman Darboe made the statement while officially launching the BAC Green Initiative:Planting/growing for a Sustainable Future on Saturday.
"Our planet's delicate ecosystems are a treasure we must safeguard. Today, as we gathered undter the open sky, surrounded by the beauty of nature, we pledged to do just that. With the guidance of relevant stakeholders and the dedication of each person present, we embarked on a mission that resonates with the very heartbeat of our Earth."
Its was a hectic day for the chairman,his senior management team, ST Foundation,National Environment Agency  as well as other stakeholders.The activity started at the BAC Complex ,  amist rainfall where Chariman himself spearheaded the labour work.
"Let us remember that our actions today will determine the legacy we leave for tomorrow. By nurturing these trees, we sow the seeds of a greener future. By nurturing these trees, we honor the intricate dance of life that takes place on this wondrous  planet."
Chairman Darboe urges all to  embrace the  initiative with open hearts and willing hands while calling for people to work in harmony with nature, forging a path toward a future where our environment thrives, and our commitment to sustainability is unwavering.
The day long engagement took the participants to Tanji,Sifoe as well as Pirang.