New Minister of Lands, Regional Government and Religious Affairs Sworn -in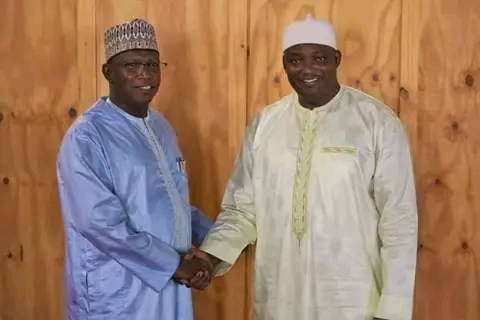 President Adama Barrow yesterday presided over the swearing-in of the new Minister of Lands, Regional Government and Religious Affairs, Hon. Ousman Sowe and the Director of Public Prosecutions, Abdurrahman Maitama Yusuf, at the State House in Banjul.
Addressing the appointees following the prescribed oaths of office, President Barrow said the cabinet position comes with trust and expectations from the people and executive. He added that Gambians demonstrated their trust and confidence in him to lead them, and it is with similar conviction and confidence that he identified and appointed qualified persons to fill positions of authority in government.
"The appointment of Hon. Ousman Sowe as Minster of lands is the result of the faith I have in him as a loyal Gambian who has served this nation for many years in different capacities." the President said, adding that his experience, qualification, character and performance in public service are key in his appointment.
The President further stated that one of the critical areas of reforms is directly linked to land administration, adding that land conflicts and related legal cases have been a major challenge and a strong need to modernise land administration.
He said Hon. Sowe has a huge challenge in implementing court rulings and resolutions with land matters. He urged the Minster to initiate reconciliation and foster peace in the communities to implement development plans smoothly.
President Barrow noted that the Appointment of a Director of Public Prosecutions is similarly important in dispensing justice and will expedite the process of justice dispensation.
He added that the taking of oaths is not a mere ceremony but a public declaration of commitment to duty and promise to faithfully serve the public without fear or favour, affection of ill-will.
"We must all remember that serving people in a public office is a privilege, but delivering according to one's mandate is an obligation."
In his brief statement, Hon Sowe said his appointment represents a bestowing of trust on him while expressing commitment to restructuring and reforming the Ministry as a premiere ministry.
"In this regard, lands administration and lands reforms, allocation and management will be quite high on the agenda of the Ministry in line with national development agenda of the government," he noted
Hon Sowe further stated that high on the agenda is the repositioning of the work of the regional governors and administrations so that they become entry points for service delivery and other forms of intervention across the country.