Police updates:IGP Sanyang visits WPC Ancy Jawo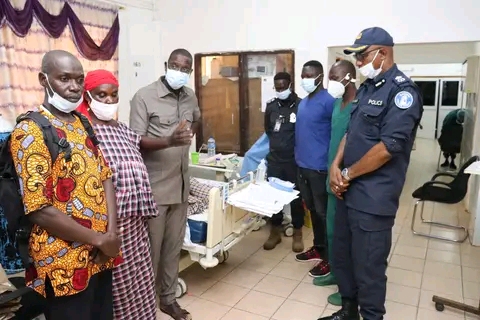 Inspector General of Police Abdoulie Sanyang, who returned from an official trip last night to address the recent unprecedented circumstances, visited WPC Ancy Jawo this afternoon at the Intensive Care Unit of EFSTH in Banjul.
WPC Jawo, a victim critically injured in the recent shooting incident, received a commendation from the IGP for her heroism and professionalism. General Sanyang reassured her family of the GPF's unwavering support for her medical care.
In a similar engagement, IGP Sanyang will also pay his respects to PC Sang J Gomez, who will be laid to rest today in his hometown of Kiti 1 at 1400hrs.
The IGP expresses gratitude for the exceptional cooperation from the public and all involved during these challenging times. Their swift assistance led to the apprehension of the primary suspect. He calls for continued support for the ongoing investigation and reaffirms his commitment to ensuring that the perpetrators of this heinous act face the full force of the law.