President Barrow presents the WHO Award to the late Dr. Malick Samba's Family.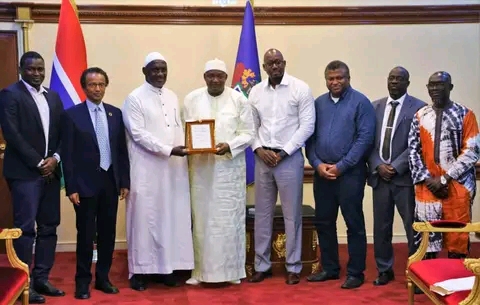 President Adama Barrow on  Thursday presented to the family of the late former World Health Organisation Africa Regional Director, Dr Ebrahima Malick Samba, an Award by the World Health Body.
In presenting the award to the family, President Barrow said it was an honor for him. Dr Samba was a distinguished public health specialist who has phenomenally contributed to the advancement of Gambia's health sector.
The President added that Dr. Samba was a household name and made Gambia proud on the global stage for his innovations and leadership in regional and global health.
"Let us all work towards our legacy" it's what will speak of us long after we are gone," he noted
The Minister of Health, Dr Ahmed Samateh, who accompanied the family to the Presidency, spoke highly of the late Dr. Samba. He highlighted the strides in the health sector through his relentless selfless service.
According to WHO Gambia representative Dr. Desta A. Tiruneh, Dr. Samba has brought significant changes to the organization and, therefore, deserves the honor. He added that the late Gambian health specialist inspired a lot within and outside the continent.
Dr Samba's son Ebou Samba, who spoke on behalf of the family, said his father left a legacy that would be difficult to surpass, adding he dedicated his life to service to the nation and continent.
Born in Banjul in 1928, Dr. Samba, a Gambian public health specialist, served ten years as WHO Regional Director for Africa and went on to retirement. He died on 28th July, 2016.